Digital marketing trends for 2021 will be based on two unique but virtually mutually exclusive principles. The first is wide humanization, which comprises addressing substantive issues and tailoring information to the individual (rather than a mass appeal) in order to foster a stronger sense of connection. Second, optimizing the behind-the-scenes parts of SEO and campaign organization—the nitty-gritty that your pleased consumers never see—is a far more mechanical and technical process. To assist you in staying ahead of the competition, we've highlighted nine of the most exciting digital marketing trends for 2021. Take note of these marketing trends and implement them into your new year's digital marketing plan.
What Does the Term "Digital Marketing" Actually Mean?
Digital marketing, alternatively referred to as online marketing, promotes brands through the internet and other kinds of digital communication to engage potential customers. It encompasses email, social media, web-based advertising, and text and multimedia messaging as a form of commercial communication.
Any marketing campaign that uses digital communication is digital marketing.
Digital Marketing vs. Inbound Marketing
The phrases digital marketing and inbound marketing are commonly used interchangeably for a good reason. Numerous inbound marketing tactics, such as email and online content, are also employed in digital marketing. During the buyer's journey, both exist to attract and convert prospects. However, the two systems have opposed perspectives on the tool-goal relationship.
Each digital marketing instrument is rated on its conversion rate. A business's digital marketing plan may consist of numerous channels or a single channel. Inbound marketing is a broad word that encompasses a variety of tactics. It begins with the objective, then analyses the various tools to determine which would most successfully reach target clients. Ultimately, this should occur in the sales funnel.
B2B Versus B2C Digital Marketing
While both B2B and B2C businesses benefit from digital marketing, best practices vary significantly.
B2B clients often have more complex decision-making processes, resulting in lengthier sales funnels. These clients are more open to long-term relationships, whereas B2C clients are more open to quick deals and marketing.

Typically, business-to-business transactions are founded on reasoning and proof offered by expert B2B digital marketers. B2C articles are more likely to be emotional to ensure the consumer is satisfied with their purchase.

B2B decisions usually require the cooperation of multiple individuals. The most effective marketing materials are ones that can be shared and downloaded. On the other hand, customers in the business-to-consumer sector prefer one-on-one contact with brands.
Of course, every rule has an exception. A business-to-consumer (B2C) retailer offering a high-priced good, such as a car or computer, may contain more severe and educational content. Whether your business is B2B or B2C, customize your strategy for your unique customer base.
The Various Forms of Digital Marketing
There is as much distinct expertise in digital marketing as there are methods to communicate with digital media. Here are few excellent examples.
SEO (search engine optimization)
SEO is a marketing technique, not a distinct sort of marketing. According to The Balance, "the science and art of search engine optimization."
The "art and science" of SEO is vital. SEO is a science in that the investigation and balancing of multiple contributing elements to attain the most significant potential ranking. Today, the most critical variables to consider while optimizing a web page are the following:
a potential ranking The following are the most significant factors to consider while optimizing a web page today:
Content of high quality

User engagement level

Mobile-friendliness

Inbound link quantity and quality
Because of its unpredictability, SEO is both a science and an art. There is no quantifiable indicator or rule for SEO success. There is no measurable or consistent rule for SEO rankings. Because Google's algorithm is constantly changing, perfect forecasts are impossible. You may increase your page's performance by regularly monitoring it.
Marketing With Content
Material marketing, a strategy centered on delivering relevant and valuable content to a target audience, relies heavily on SEO. Content marketing, like any other way of marketing, seeks to generate leads that become consumers. Traditional advertising, on the other hand, works differently. It offers free text content rather than enticing visitors with a product or service. Content marketing is essential, as evidenced by the following statistics:
Consumers expect businesses to create exciting and valuable content experiences, according to 84 percent of respondents.

Companies with at least 5,000 employees produce material daily in 62% of cases.

Ninety-two percent of marketers say content is vital to their business.
Content marketing is incredibly effective yet challenging to perfect. Search engine optimization (SEO) writers must efficiently rank in search engine results while also engaging readers. When a substance is essential, it can help people form strong ties.
Marketing on Social Media
The use of social media to engage individuals may enhance traffic and brand recognition. The most prominent social media marketing platforms include Facebook, Twitter, Instagram, Linked In, and YouTube.
Because social media marketing entails active audience interaction, it has grown in popularity as a means of attracting attention. With 96 percent, it's the most famous content channel for B2C marketers, and it's gaining traction in the B2B world as well. According to the Content Marketing Institute, sixty-one percent of B2B content marketers boosted their use of social media this year.
Affiliate Marketing
Affiliate marketing grants anyone to earn money by promoting other people's products. You may be the promoter or a partner company. Still, the process is the same in both cases. It operates on a revenue-sharing basis. If you're an affiliate, you'll get paid every time someone buys the product you're promoting. You pay the affiliate for every sale they assist you in making if you're the merchant.
7 Digital Marketing Trends in 2021
1. A Rise in Influencer Content and Live-Streaming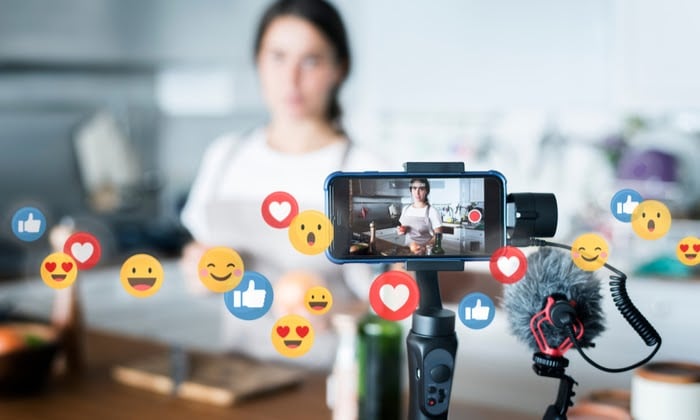 Activities were canceled as a result of stay-at-home orders, and customers were unable to attend in-person events. They couldn't even communicate with their pers and family. It increased the number of individuals watching live streams, whether branded live streams, live videos from their favorite celebrities or online workshops.
Live viewings on Facebook increased by 50% during lockdown periods, while viewings on Instagram increased by 70%. In 2021, TikTok usage increased dramatically, and there's a high possibility that the trend will continue in 2021. this is the first digital marketing trends that we have on our list.
2. Brands With More Goodwill and Mission-Driven Missions
"The brightest brands will recognize where they fit into customers' lives on social media. They'll find inventive ways to get into the conversation," according to the Hootsuite Social Trends report for 2021. The desire for transparency is at the heart of this. Consumers are unable to engage with brands that they perceive to be shady or insincere. Why would they want to put their money into something they don't trust or believe in? It is why, in 2021, brands that wish to remain trustworthy sources will need to connect.
3. Using User-Generated Content to Improve The Consumer Experience
The importance of the customer experience has never been greater. this is one of the best digital marketing trends in 2021. Consumers want simple, memorable brand interactions. They want assurance and confirmation before buying; no one wants to make the wrong choice.
When it comes to connective content, user-generated content (UGC) checks all the boxes:
It helps to strengthen and establish communities.

It's both relatable and inspiring.

It allows businesses to meet clients where they already are.

It enables brands to produce a lot more content in the face of stay-at-home requests and other restrictions.
Brands have always used user-generated content (UGC) to build relationships with their customers and give social proof, which will continue in 2021.
4. A Commitment to the Long-Term Viability
Eighty-one percent of customers strongly believe firms should contribute to environmental improvement. It is an unsurprising figure. We've noticed a trend in brands moving toward a more sustainable future over the last few years. Whether through the materials they use, the packaging they use, their systems, or anything else. Consumers are actively searching out purpose-driven, environmentally responsible businesses as the quest for a better planet continues. Due to the precarious state of the planet, brands must reaffirm their long-term survival in 2021.
5. Inclusion Will Be Crucial
In 2021, with the Black Lives Matter development emphasizing endemic challenges that permeate all facets of society, inclusion became a primary objective. According to an Accenture survey, the cultural trend toward inclusivity impacts consumer behavior. With 41% of customers avoiding businesses that do not reflect their ideas on identity and diversity and 29% inclined to switch brands totally if they do not display sufficient variety.
Brands deemed non-inclusive or absent from the inclusion conversation will almost probably face the consequences in 2021. On the other side, brands that aggressively promote their support for inclusive causes will benefit and improve their client relationships.
6. Voice and Visual Search Have Gained Popularity
Consumers are increasingly embracing voice-activated gadgets such as Alexa to conduct searches. Perhaps it is because individuals have been pent up at home with few communication options. Or it is just because this type of technology is more widely free (about one in four American houses has a smart speaker of some kind). However, we may anticipate that, in addition to voice search, other innovative search methods, such as visual search, will take the lead in 2021.
Consumers can conduct visual searches utilizing products such as Google Lens. It means that picture alt-text and sitemaps will become even more critical for marketers. Visuals will become continuously crucial in the SEO game during the following year. Retail Customer Experience reports that "early adopters that redesign their websites to incorporate visual and voice search will see a 30% increase in digital commerce revenue by 2021."
7. Consumable Content
Additionally, in 2021, individuals rely on easy-to-consume content, such as podcasts that can be listened to on the move or newsletters delivered directly to subscribers' inboxes. According to research, 55% of Americans now listen to podcasts, and mentions in newsletters jumped by 14% during the closure. Additionally, advertisers are increasing their expenditure on podcasts, indicating that they will continue to be popular in 2021.
Podcasts and newsletters are two examples of easily accessible content that can help brands connect with customers. Consider Nisolo's example. They used their newsletter to maintain contact with clients and check in on them before providing them items to assist them in navigating difficult times.
Final Thoughts
Due to the unexpected nature of 2021, businesses have been pushed to rethink their client interactions. People were forced to pay more time online as a result of store closures and stay-at-home orders. As a result, companies have been constain to widen their horizons and develop more human-centric client communication methods. and one of these is sticking to digital marketing trends that could single-handedly revitalize a business. These trends are anticipated to persist over the next 12 months. Live streaming will grow more prevalent, purpose-driven firms that champion sustainability will rise to prominence. User-generated content (UGC) will continue to be a critical component of any marketing campaign.
Additionally, Microsoft Softvire USA is where you should go if you're looking for more safe and straightforward solutions to expand your digital marketing organization.