Digital marketing skills are indeed crucial in the digital marketing business to stay on top of the latest trends and discoveries in this ever-changing business. Marketers can now communicate with their target audience in various methods due to the growth of social media stages such as Facebook, Instagram, and Snapchat. As a result, video strategy has become one of the most common methods of communication for businesses with their customers. Additionally, augmented reality technology is being leveraged to improve brand campaign participation.
Marketing is becoming increasingly automated daily, and marketers must keep up. Consumers' interactions with brands and businesses will evolve significantly over the next several years, making it critical to stay current on innovations to maintain a profitable business. Apart from enhanced media buying strategies, competitive intelligence, and advanced SEO techniques, digital marketers need to acquire a few additional talents by 2022.
What is Digital Marketing?
Digital marketing, colloquially referred to as online marketing, promotes brands through the internet and other kinds of digital communication to engage potential customers. It encompasses email, social media, web-based advertising, and text and multimedia messaging as a form of commercial communication.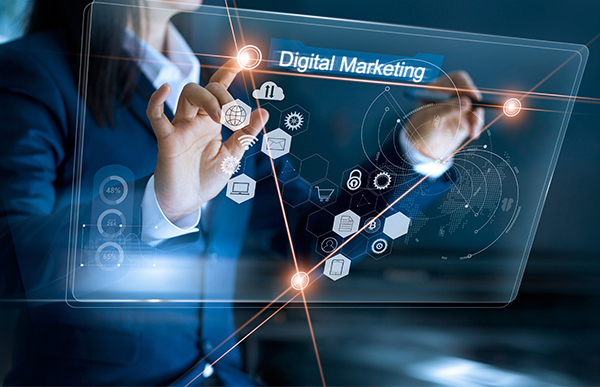 8 Skills To Master in 2022
1. Design Thinking Capabilities
Design Thinking is becoming an increasingly important component of digital marketing abilities. These thinking skills are a set of traits that help people to solve issues, communicate effectively, collaborate, and deal with complexity.
Design thinking is all about comprehending your clients' perspectives and producing innovative solutions for them. Because designers commonly utilize design thinking to solve problems in digital marketing. As engaging customers with their digital products or services is critical for digital marketers. Additionally, ms project 2019 is a tool that you can use to improve your design.
2. Market Research Capability
In 2021, digital marketing trends will be distinct from those of 2018. For example, market research talents such as customer-centric digital marketing and market insights will become more valuable than traditional digital marketing abilities such as keyword research and SEO.
Market research is the foundation of digital marketing. To remain competitive, digital marketers must stay current on industry trends. Digital marketers must also analyze digital marketing trends across numerous digital media platforms to segment audiences and understand their demands. When performing market research, the following are the most critical factors to consider:
Conduct market research on the demographics of your target market
Create a strategy for social media marketing
Maintain a consistent presence on your website
Utilize paid advertising
Engaged Customers through email campaigns
The following are some suggestions for honing your market research skills and applying them to your digital marketing skills:
1) Conduct Surveys
Surveys are an excellent way to solicit feedback from your target audience about a range of topics related to your product or service. Additionally, you can include questions asking respondents what they want to see in the future from you or other companies in the field.
2) Conduct Focus Groups
Another excellent method of gathering feedback is to conduct focus groups. Additionally, they may help you improve the messaging for your digital marketing activities, hence raising engagement and conversion rates.
3) In-depth Interviews
In an informal setting, interviews are an excellent way to collect data and elicit your interviewee's candid feedback on their thoughts and opinions about your product or service. Unstructured and structured interviews are two different forms of interviews that are used to elicit data.
4) Utilize Social Media Outlets
Social media has developed into a powerful promotional tool. Used to generate leads, increase brand awareness, and perform a variety of other functions. One of the most undervalued ways social media can help is by performing market research for digital marketing campaigns.
Utilizing social media to do competitive research is straightforward and precise, with no prejudice or skewed results. By searching for popular topics in their business, marketing organizations use social media to solicit their marketing activities and products. Additionally, they conduct surveys by inquiring about new products or services and soliciting comments via tweets or posts.
5) Evaluate Data
By examining data from various sources, you may ascertain how your clients behave and what they desire. Therefore, any digital marketing effort necessitates data collection. You may determine your website's statistics, the keywords to target, and the monthly conversions required by evaluating data.
3. Proficiency With Video Marketing
Video marketing is the future of digital. By 2022, video marketing will outperform all other digital media. Video content on Facebook, Instagram, YouTube, and Snapchat consistently outperforms other digital channels. On average, consumers spend four hours every day watching movies on their mobile devices.
Video marketing abilities are critical for future success in digital marketing. Video has become a critical component of digital advertising since it is the ideal medium for storytelling and information presentation. According to eMarketer, "video advertising will grow from $7 billion last year to $11 billion this year." It demonstrates the continued importance of digital marketing skills.
4. Automation of Marketing
Marketing automation is on the more technical and software-intensive end of the digital marketing spectrum. Marketing automation effectively boosts the entire sales funnel by establishing a vast user base and increasing brand recognition. The more familiar people with your brand, the more likely they will trust it and eventually make a purchase. While the consumer may not purchase their initial visit to your website, marketing automation ensures that you remain relevant in the consumer's mind, ultimately resulting in sales. The average compensation for a marketing automation specialist worldwide is $61,080, whereas, in India, it ranges from 6-6.5 lakh INR (PayScale).
Recommendation: IIDE's MBA-Level Postgraduate in Digital Marketing program teaches industry experts marketing automation and other digital marketing skills.
5. Design Fundamentals
It is always beneficial to understand the foundations of design, even if you are not a designer. All of your digital marketing talents will be useless if you are constantly reliant on a designer.
To have a thorough understanding of design, so we recommend learning the fundamentals of Adobe Photoshop and Illustrator. Why not join us at IIDE and earn an MBA-equivalent digital design certification to take your career to the next level and empower yourself with the creative talents necessary to plan and execute effective digital campaigns? Through a hands-on approach, you will develop the graphic design, UI/UX, and even web design skills. Canva, on the other hand, is an excellent place to start if you're in a hurry to create something.
A graphic designer at the beginning level can earn up to $46,369 per year worldwide, with an average salary of 2-3 lakh INR in India.
6. Optimization of Search Engines (SEO)
SEO, or search engine optimization, is a time-honored digital marketing skill. Having your website appear at the top of search results improves traffic and establishes your website's reputation. SEO is a technical and analytical subject requiring an understanding of algorithms, how search engines function, and how a piece of content might creatively link to a search result. SEO is an $80 billion industry in and of itself.
Consider the following statistic to illustrate why this is a significant issue: 93 percent of all internet activity begins with a search engine. 75% of people never scroll recent the first page of search results. Never stop reading to discover some of the most important benefits of SEO and why businesses value it so highly. Search engine optimization is an essential skill. The SEO market is increasing due to continuous algorithm updates that affect website optimization tactics, necessitating re-optimization. A Search Engine Optimization Specialist may earn between $46,738 and 2-3 lakh Indian rupees in India (PayScale).
7. Advertising Copywriting
When you're not doing it, this digital marketing skill appears to be relatively straightforward. Isn't it as simple as composing a few phrases for a brand? Wrong. Copywriting is much more than that; it is the ability to succinctly communicate a brand's sentiment, purpose, and USP in a few lines, if not words. Therefore, you are the brand's voice. It would help if you collaborated closely with the designer to guarantee consistency in both content and design.
Copywriters are in high demand because they create content and jingles that help people engage with and remember businesses. Are you looking to develop your copywriting skills? Analyze the copy in this Zomato case study, as well as other examples from your favorite brands. Consider how they might have handled certain situations differently! Salary data indicates that an entry-level copywriter can earn up to $53,154 internationally and an average of 3-5 lakh INR in India.
Recommendation: This Online Copywriting Course with Certification is an excellent place to begin if you're interested in learning to write copy and honing your digital marketing skills in this industry. This course will educate you on how to write digital copy, the fundamentals of content writing, how to write for social media, and optimize your marketing efforts.
8. Email-Marketing:
Email marketing has existed for an extended period and is one of the most effective marketing strategies available. Therefore, according to studies, email marketing generates a $42 return on investment (ROI) for every dollar spent, much more than any other digital or traditional marketing strategy. Email marketing is one of the highest-paying digital marketing skills due to its adaptability. Therefore, It is used to reawaken dormant clients, convert leads, and increase customer loyalty, among other things! You can send unique deals, information about forthcoming events, articles, and other helpful information to subscribers. An Email-Marketing Specialist's average global pay is $54,573, with a salary of 3-5 lakhs INR in India.
Recommendation: If you want to be know how to use your email marketing skills effectively, IIDE's Email Marketing Certification Course is a fantastic place to begin. It will demonstrate how to build a robust email list and how to conduct efficient email marketing campaigns.
In Conclusion
Digital marketing is one of the most popular professional fields at the moment, and capitalizing on this digital frenzy will be highly profitable. Additionally, the Pandemic of COVID-19 has heightened the need for businesses and organizations to come online and employing digital marketing methods. Therefore, By 2022, the number of new jobs in digital marketing is expected to hit an all-time high, suggesting that the field is here to stay.
We hope you found this article informative. Therefore, it informed you of the top digital marketing abilities you should possess. A career in digital marketing may be highly lucrative. We hope that this list of essential digital marketing skills has assisted you in taking the first steps toward specialization.
As a digital marketer, you'll require tools to aid in business growth. Microsoft products may be the most acceptable alternative. Microsoft Softvire USA is the best place to find the most economical Microsoft products.