Suppose you've ever created a website, published content, or sold something online. In that case, you understand how critical search engine optimization (SEO) is for attracting visitors. Furthermore, keyword research is crucial for website optimization. Numerous keyword research tools are available, ranging from the simple to the sophisticated. Additionally, they go in value from nothing to a considerable sum of money.
The best SEO keyword research tools, when used correctly, simplify and streamline your SEO workflow. They assist you in determining the most appropriate keywords to target and provide the necessary information to rank for them.
What is a Keyword Research Tool?
A keyword research tool aids in the identification of topic ideas based on what people are searching for on search engines such as Google, Bing, and Amazon. It simplifies the process of creating content for your customers. You can then incorporate those topics into blog posts and landing pages as part of your content strategy. Additionally, keyword research tools can reveal your competitors' seed and long-tail keyword rankings on the first page of Google. Then you can tailor your content to capture their visitors by targeting those keywords. As a result, we've compiled a list of the top SEO keyword research tools.
What are Keywords?
The term "keywords" refers to concepts or ideas that help define the subject of your content. People enter the words and phrases into search engines, also known as "search queries" in SEO. If everything on your page is reduced to simple words and phrases — images, video, and copy, for example — these are your primary keywords.
Why are Keywords Important?
Keywords are vital because they connect what people want and what you provide to meet that need. The keywords you target (including those in your content) will determine the type of traffic you receive. For instance, if you own a golf shop, you may wish to rank for "new clubs," but you may attract traffic looking for a new place to dance after dark if you are not careful.
Keywords are as much about your audience as they are about your content, as you may describe what you offer differently than some people do. First, you must understand your visitors' needs — their language and the type of content they seek. It can be accomplished by directly communicating with your customers. Participating in forums and community groups, and conducting your keyword research using a tool such as Keyword Explorer.
What are Long-Tail Keywords?
Keywords can be broad and all-inclusive (referred to as "head keywords") or a combination of several terms (often referred to as "long-tail keywords").
Best Keyword Research Tools for SEO
(1) SEMrush
SEMrush is an all-in-one search engine optimization toolkit that enables you to conduct keyword research and optimize your search engine rankings.
Enter a keyword into the Keyword Overview tool to obtain a comprehensive view of everything you require. It includes information such as the monthly search volume for the keyword, whether the keyword is increasing or decreasing in popularity (the Trend), and much more.
If you scroll down, you'll see a list of alternative keywords you might want to use. As well as a list of organic search results for the keyword, which will show you where your competitors rank for it. Additionally, you can conduct a Google Ads search for PPC advertisements that contain that keyword (pay-per-click ads).
Overview
You can use the Domain Overview to view the organic search terms, keyword data, and other organic traffic metrics for any competitor's website.
You can see relevant keywords, your competitors' search engine ranking positions (SERPs), traffic value (CPC), and more by navigating the Organic Research tab.
SEMRush is the best keyword research tool, according to all of the world's top marketers. Their entire toolkit can assist you with content marketing, digital marketing, social media marketing, and a variety of other services.
(2) AnswerThePublic
AnswerThePublic is different from other keyword research tools in that it takes a unique approach. They display keywords visually, but you can also view them as a list or download them as a.csv file.
Because you are not required to create an account to use it, this is an excellent tool to try if you are new to SEO and keyword research. Enter your search term in the search box and wait for the results.
AnswerThePublic's keyword results are generated using the auto-suggest / autocomplete features of Google and Bing. You can open a new tab by conducting a Google search with any of these keywords.
It will display the content that ranks for those terms and whether or not it contains a featured snippet.
AnswerThePublic's free version is an enormous benefit to bloggers. However, if you frequently conduct keyword searches, you may want to upgrade to their pro plan.
(3) Ubersuggest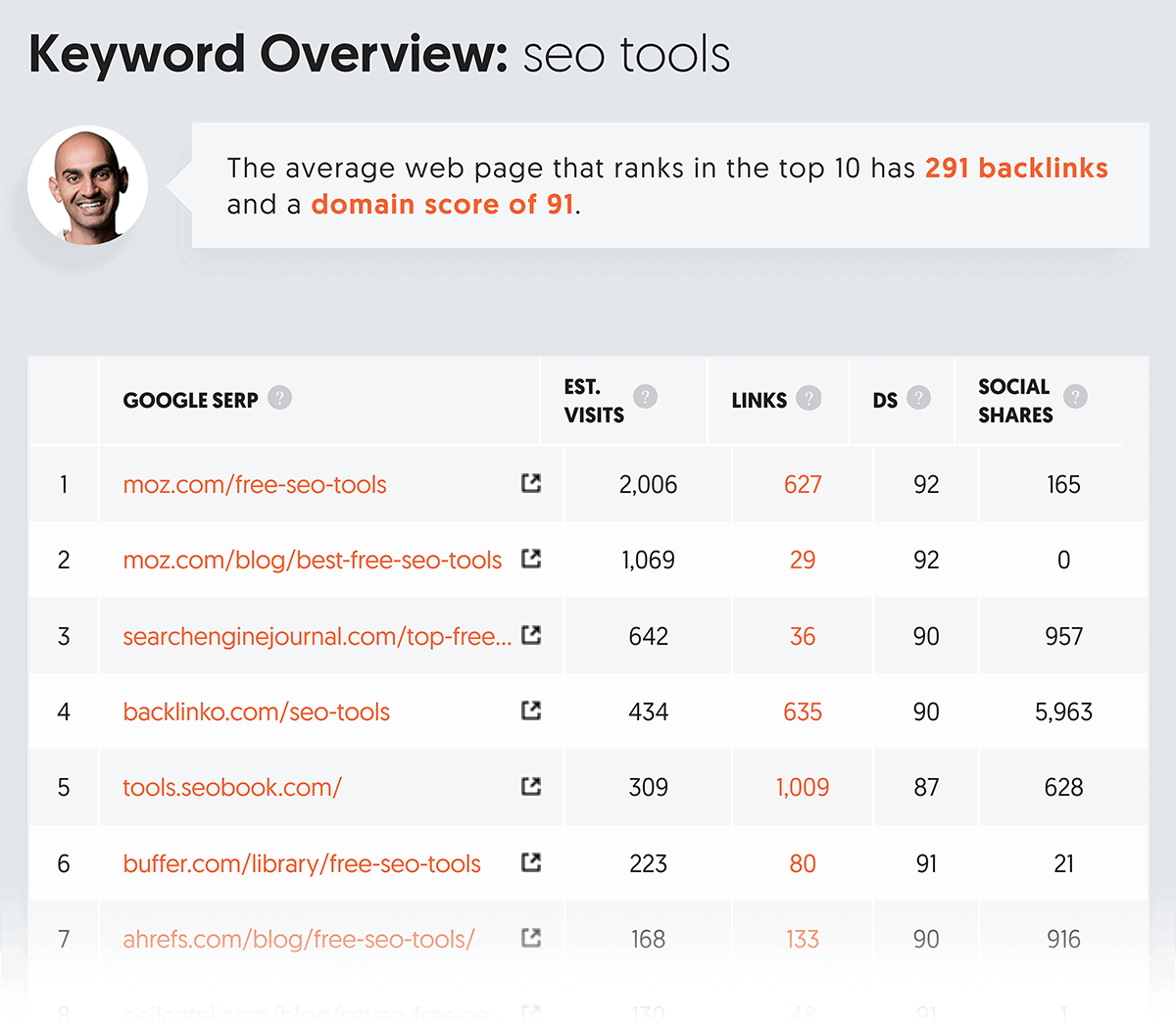 Ubersuggest is a free tool created by Neil Patel. It provides information on search volume, keyword suggestions, and an estimate of how difficult it will be to rank for a given keyword (keyword difficulty).
You can view a table of the top 100 Google results for that keyword, as well as estimated visits, backlinks, a domain score, the total number of social shares, and a plethora of related keyword suggestions.
Additionally, it displays content related to your keyword under Content Ideas, including estimated monthly visits, backlinks, and the number of Facebook and Pinterest shares.
By logging in with your Google account, you'll be able to access additional keyword suggestions, daily rank tracking, and personalized SEO recommendations. Additionally, UberSuggest offers a Chrome extension to assist you in expediting your search.
(4) Ahrefs
Additionally to SEMrush, Ahrefs is a popular keyword research tool. You can generate keyword ideas in Ahrefs' keyword explorer by typing a keyword into the search box. Following that, ahrefs will present a lengthy list of keyword suggestions.
Additionally, you can use Ahrefs to determine which keywords your competitors rank for (but you do not) to create new content around those topics.
Additionally, Ahrefs can detect new keywords and keyword movements in search queries, making it a valuable tool for competitive intelligence.
Both SEMrush and Ahrefs offer a slew of additional useful features, such as reports that identify broken links on your site and pay-per-click keywords for Google Adwords.
(5) Google Keyword Planner
They're interested in running advertisements on Google. However, it is a helpful SEO tool that is entirely free compared to other paid tools.
You must have a Google Ads account to use it. If you don't already have one, you'll need to create one. And enter your payment information; however, you are not required to run any campaigns or make any payments.
Once you've gained access to the Keyword Planner via your Google Ads account, you can enter any keyword. It's to see data on its (approximately) monthly search volume.They will present the keyword list to you to give sugggestions that you can scroll through or download.
(6) Long Tail Pro
Like the majority of premium keyword tools, Long Tail Pro provides a summary of data about your keyword, with an emphasis on your position on Google's first page compared to your competitors.
By examining your keyword's top search engine results, you can determine your ranking concerning your competitors. Additionally, you can monitor specific keywords to monitor how your content's ranking changes over time.
(7) Serpstat
It is an outstanding tool for conducting keyword research. The Serpstat simplifies the process of determining the top Google results for your keywords. These results include the site as the first result in the featured snippet, which explains why the IsItWP post appears first and second in the screenshot below.
Additionally, you can view various data about your competitors for that keyword, such as their visibility (the higher the number here, the more visitors they likely receive).
(8) Spyfu
SpyFu is a tool that enables you to learn from your competitors by conducting keyword research on the most profitable keywords they use (and their ads too).
Without logging in, you can test it for free. Type the URL of the website you wish to visit into the search bar, and the results will appear instantly. To view multiple websites, you must first create and log into a free account.
SpyFu collects historical data to demonstrate how your own or a competitor's website has risen or fallen in the search engine rankings for specific keywords. Additionally, you can benchmark your website against those in your industry.
(9) KW Finder
If you're looking for a standalone keyword research tool, KWFinder is your best bet. Despite their relative youth on the market, they are one of the most rapidly growing SEO tool companies.
KWFinder can assist you in determining a keyword that will drive highly targeted traffic to your website. You can quickly discover long-tail keywords related to problem-solving by using the Questions-based Keyword Research option. Content that solves problems increases targeted traffic and conversions. There are both free and paid plans available on KWFinder. The fundamental goal is the best option for the overwhelming majority of users.
(10) Keyword Surfer
Keyword Surfer is a Google Chrome extension that shows the volume and cost per click of keywords directly on the SERP page. SurferSEO, a content optimization tool for search engines, has provided you with a free chrome extension for keyword research. It enabled you to create new search queries through the use of Google's autocomplete feature. Since you will see the monthly traffic volume and related keywords data on the SERP page, generating a list of keywords for your project will be much easier. This free tool may be an excellent complement to more robust tools in your content marketing efforts.
Final Thoughts
After evaluating all popular keyword research tools, we believe that SEMRush is the best keyword research tool and the industry's leading SEO toolkit. Consider using AnswerthePublic or Google Trends if you're looking for a free keyword research tool.
To ensure that your keyword research strategy is effective, you must install Google Analytics, whether you're a blogger or an eCommerce site. And connect Google Search Console to your site. These tools demonstrate your listing's average CTR (click-through rate) as well as the performance of your website for specific keywords. You can boost your keyword rankings by changing the title of your page to increase the click-through rate.
Additionally, you may be interested in our guide to keyword research, which is the most effective method of blogging. At Microsoft Softvire USA, we offer a variety of high-quality solutions for optimizing your SEO resources and enhancing your content creation experience.